NEW RELEASE!  Peach Natural BB Cream UV
Momohime will release long-awaited BB cream on 1st February in Japan. It is formulated with seven moisturizers as other Momohime products and does not use Ultraviolet ray absorber which causes burden to skin. With highest SPF, it protects your skin throughout the year. Preorder is accepted at Momohime online shop.
---
Malaysia AEON Wellness 11 stores hold 10% OFF for all Momohime line in December!
---
"Momo Hime" ("Peach Princess") is a name for a Halal-certified skin-care line with soothing peach aroma which promote healthy and natural beautiful skin.
"Momo Hime (Peach Princess)" skincare line features moisture-rich peach extracts and soothing peach aroma. "Momo Hime" skincare line obtained Halal Certificate from the Japan Islamic Trust so that Muslim women can use them as a part of daily regimen. "Momo Hime" skincare line promotes healthy and natural beautiful skin.
---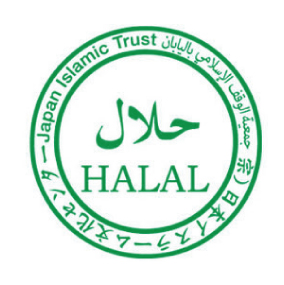 Halal-Certified
Received Halal Certification from Japan Islamic Trust (JIT), which is a member of the World Halal Council and recognized as a Halal Certification Body by UAE in 2008. It is recognized by many other countries.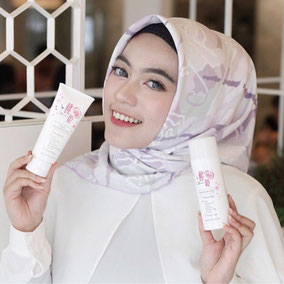 100% Japan-Made
All products are made in Japan, including containers and ingredients. We provide Japanese high-quality products produced at a factory with ISO9001 and GMP quality.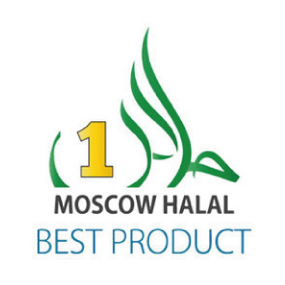 Accredited by the World
We participated in 2016 Halal Expo in Moscow as the first-time-ever Japanese company and received Best Product Award. Momohime products gained high evaluation by Muslim and Non-Muslim.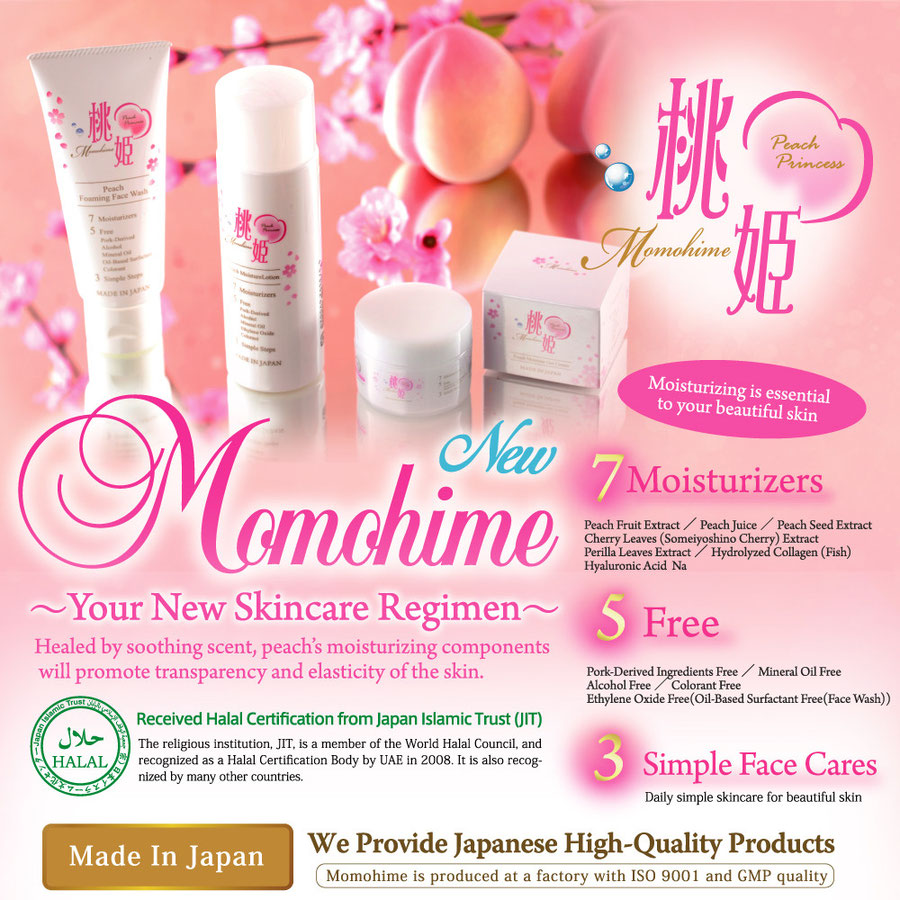 ---
---
Replenish moisture to hydrate skin from within
Formulated with selected natural seven moisturizers.
Peach leaves, peach juice, and peach seed extracts replenish moisture to the skin.
Hyaluronic acid Na, Hydrolyzed marine collagen, Cherry leaves extract, and Perilla leaves extracts containing moisturizing agents promote clear and beautiful skin.
Peach leaves Extract replenishes moisture and fixes up skin texture with anti-inflammation, anti-oxidant, and anti-bacterial effects.
Peach Juice provides and keeps moisture to your skin with astringent action, anti-bacterial, anti-inflammatory, and skin metabolism accelerating effects.
Peach Seed Extract makes skin supple and radiant with emollient effects and drying prevention effects.
Cherry Leaves Extract prevents skin inflammation and melanin formation to improve skin roughening and dullness.
Perilla Leaves Extract prevents skin inflammation and has anti-allergy effect. It prevents skin-roughing and promotes clear skin.
Hydrolyzed Marine Collagen
Hydrolyzed Collagen is a protein functioning as a cushion in dermal cells making skin supple and soft by staying in skin keratin.
1gm of Hyaluronic Acid is able to hold 6 liters of water. It has the ability to keep moisturizing skin and makes skin fresh and clear.
---
No prohibited and harmful additives are used, so you can use continuously with peace of mind.
No tested on animals. No Paraben.
NO Porcine-by, No mammalian Derived Products
No Porcine-by products, No mammalian derived products are used.
Alcohol is not used as it causes trouble and dry skin
Mineral oil is not used as it bears burden on the skin.
NO Oil-derived ingredients
Oil-based surfactant (face wash) and Ethylene oxide (lotion and gel cream) are not used.
Colorant is not used, leaving natural color of ingredients as they are.
---
All of our products are made in Japan, including contents, bottles, boxes, and others.
Our products are manufactured at a factory in Japan with ISO 9001 and latest equipment under GMP  standard.  We will strive for providing high-quality products that our valued customers can continue to use with peace of mind.
---
Easy use everyday without burden
Control costs thoroughly and cut intermediate margin, actualizing reasonable price, while maintaining high-quality.
---
---


---
The Hijab shop operated by Muslimah, Nana san, in Japan. The shop has a variety of stylish apparels mainly Hijab.
---
---